If you're a subscriber (and if you actually read/listen to these newsletters), you might recall us talking about the the Heart of Relationships.  Recently, we've become consciously aware of the bigger impact this model can have, in your personal life, as a couple and family, in your workplace, community, society and in the bigger world.
We invite you to take that and apply it consciously everyday, starting with self.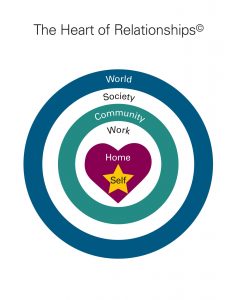 It is in the inner circles where you create the bigger impact and greatest measurable results.  When done consciously and intentionally you'll experience powerful, inspiring results. When done unconsciously and from unconscious intentions (which is what often happens) you'll experience the negative results.
You get to choose!!  So, what is your choice now?
This is tough stuff to manage.  We struggle a bit now and then.  If you're experiencing the negative and want to turn it around, we invite you to call us at 780-785-9479.  It takes courage, yet could be the best phone call you make.